Times change and so do the Stylist at espy.
People's lives are constantly shifting and leading them in new directions. The staff at espy are no exception – especially during the last couple of years! Therefore, we would like to take the time to do some quick introductions for 3 of our newest staff members. Say hello to our new Stylists: Vinay, Caitlyn, and Loriana!
Vinay Dhiman | Assistant Store Manager, Menswear Stylist & Fitness Fanatic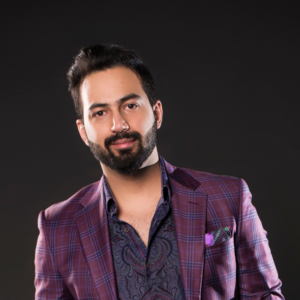 Vinay comes to espy with an impressive background in fashion. With his fashion career ambitions in mind, he left his home country of India to move to Canada. This is where his skill and passion for menswear saw him working for Thomas Jeffery, Banana Republic, Geox and more. After gaining incredible experience in Toronto and Montreal, he was called to the mountains of Alberta and packed up once more to re-locate to Calgary.
Vinay loves being able to teach clients not only how to dress their best, but to also be proud of the outfits they put together in the morning. There is no greater feeling of satisfaction for Vinay than when he builds a trusting relationship with clients that keeps them coming back for his style advice and knowledge.
When he isn't at work you can find Vinay indulging in his love for fitness either by heading to a local gym or – better yet – exploring the beautiful Rocky Mountains that brought him to the west!
Caitlyn Elizabeth C | Junior Stylist & Queen of the Cuff & Tuck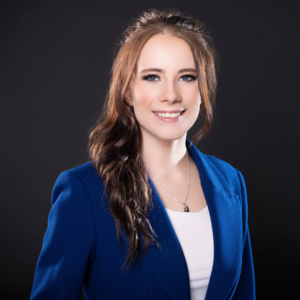 Hailing from small-town Bentley, Alberta, Caitlyn is a confident and skilled stylist. Which is all the more impressive when you learn that she has only just begun her career in fashion. Although her talent is clear, she loves being able to work with and learn from the senior stylists at espy and is excited to be in Calgary chasing her dreams.
Caitlyn's fire-cracker personality is infectious. It helps her clients feel upbeat and comfortable when they work with her. Her favourite part of the styling experience is when she is able to help people find their confidence through clothing. Even if it's in a simple white t-shirt, classic blue jeans, and sneakers – her go-to outfit!
When Caitlyn isn't working you can find her visiting her friends and family. Especially her parents, who are her biggest cheerleaders.
Loriana Lupi | Marketing Assistant, Junior Stylist, & Expert Content Creator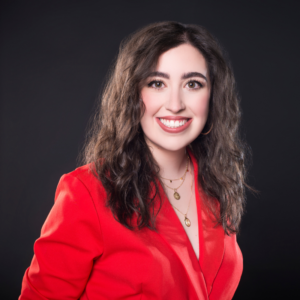 Loriana has both a passion for fashion as well as a love of marketing. This led her to getting her degree in Communications and Media Studies from the University of Calgary. When she's not busy studying, she loves having the opportunity to work at espy where she can combine her two loves by coming up with creative and engaging content for our social media channels.
With a smile that lights up a room, Loriana keeps her father's words in her head as she goes through life: be kind and compassionate to everyone you meet and try to find the positive in every situation. It's clear from the moment you talk to Loriana these are values she treasures, making her an overwhelmingly positive and fun person to work with.
Loriana's leisure time is often spent buried in a romance or thriller novel. Unless it's Friday, then she will be enjoying family time during their weekly movie night!
If you would like to say hello to one these new Stylists in person, pop in on a weekend and you'll be able to meet all 3 at once! Or, book an appointment with one of them here.
If you would like to read about the other amazing staff members of espy, click here!