Over the last 12 years, espy has found amazing brands from all around the world. We have come up with new and exciting brands and events, but this is a first… we are introducing espy The Label!
We are taking a huge step in the fashion world. Megan and the espy Team have become more than just stylists and sellers of great clothes. We are now also designers! So (without further ado) we are thrilled to be introducing espy The Label!
What exactly is espy The Label? It is our new in-house brand that brings our client's niche, luxury pieces that fill a gap in the marketplace.
A little back story…
When espy looked around at everything going on in the world, we knew that we had to bring in clothing that our client's could feel comfortable in while at home – but not shabby! It dawned on us (with inspiration from the Instagram/TikTok account @TheQueerIndigo) that the best of both worlds would be robes, kaftans, and kimonos. But not just anything would be up to snuff for espy.
After an exhaustive search during the buying season, Megan and our Head Buyer, Nikki, came to the conclusion that we were going to have to make our own. We couldn't be prouder of the garments that we were able to design ourselves and have manufactured exclusively for espy. Today we are thrilled to have launched our first products:
Here are the details…
Unisex Organic Cotton Bath Robe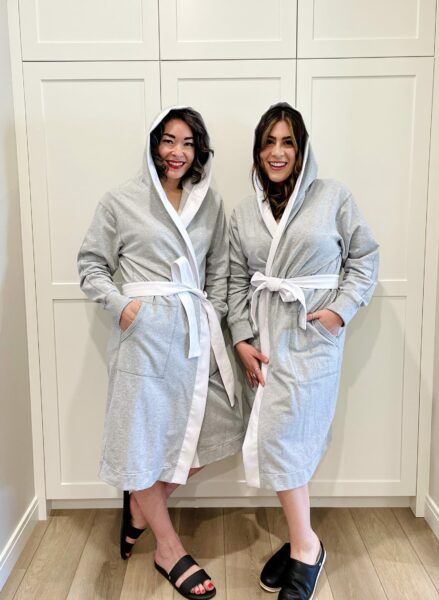 This is the ultimate bath robe. Not just because its made of super soft organic cotton and made in Canada, but also because it has amazing features. There are huge pockets that you can fit more than just a phone in. The sleeves are ribbed so you can actually push them up if you need to. The athletic details like flat-lock seams make for a great look and fit. And the best part? The waist tie is sewn right onto the back of the robe so you never have to worry about losing it!
Unisex Tie-Dye Kaftans
Our kaftans are made in Bali with hand dyed super-soft bamboo fabric. The front and back of the kaftans have a v-neck design and feature a 3/4 length sleeve. They are available in 3 different lengths – 120 cm, 150 cm, and 160 cm – and are also available in multiple different colours from solid black to bright red!
Unisex Tie-Dye Kimonos & Robes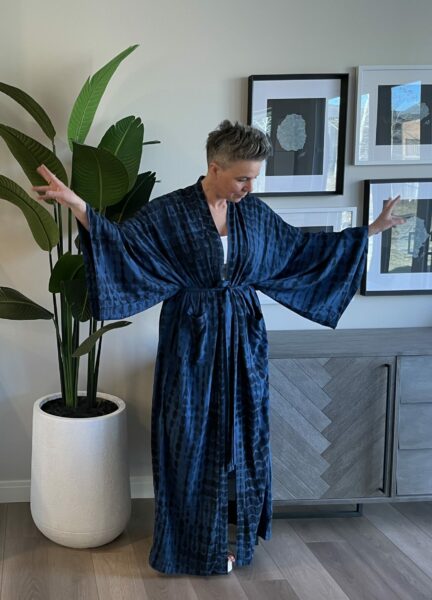 Our kimonos and short sleeve robes are also hand dyed in Bali. The main difference between these and our kaftans is that our kimonos and robes have an open front. The kimonos feature full-length sleeves while the robes have short sleeves, but both are great for summer as bamboo is a temperature regulating fabric. Both of these pieces are 150 cm long and, just like the kaftans, come in an array of colours.
How to style the kaftans, kimonos and robes…
We love the idea of wearing the kaftans, kimonos, and robes on their own when hanging out at home. They are comfortable and soft without compromising the feeling of luxury. That being said, we understand that our clients are looking for items to add to their wardrobe that are versatile. This is why Megan & Nikki filmed a quick video (it's less than 3 minutes) to show you all the ways you can style an espy The Label Kaftan, Kimono, or Robe.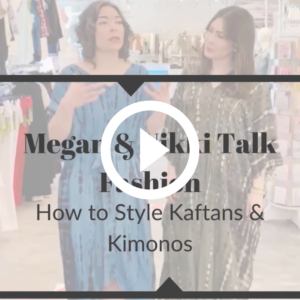 We are so proud of our first espy The Label collection. We are sure that Calgarians like you will be able to enjoy these garments now and for years to come. Keep your eyes on our social media to see what else we have in the works for the future.
As always, THANK YOU for supporting local!