Hey, Ladies! If you're looking for the do's and don'ts of video conferencing, look no further.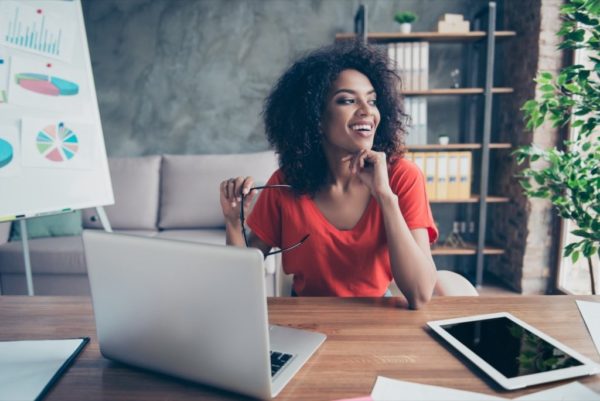 Working from home is weird, right? It's uncharted territory and you may find yourself wondering: what the heck do I wear for these video conferences?! Although you don't need to wear a fitted blazer & pencil skirt when working from home, you do need to be mindful of how you are presenting yourself on camera. It is still work, after all, and you should look like you are working and not binge-watching Netflix on the couch.
This is where espy comes in. In this blog, we will go over how to appear professional but still stand-out amongst the crowd of co-workers' cameras. Of course, the below information is all dependent on your place of work. If your boss is okay with you showing up in your pj's, then go for it! However, most workplaces would prefer you put in some effort. These are the espy do's & don'ts of video conferencing for women.
SETTING UP
Do…
Pick a room that doesn't have distractions.

A good choice is a home office or dining room. Warn your kids that Mom will be busy until the end of her meeting and she can't be bothered.

Make sure your camera is at eye level and straight on.

This is the most flattering position. Place your laptop on a stack of books if you need more height.

Test your camera and mic before the meeting starts.

The consequences of not doing this can lead to frustration and looking incompetent to your fellow coworkers.
Don't…
Pick your child's playroom for the meeting. Obviously.
Zoom in so close that all your coworkers can see your pores.
Have the camera cut you off below the waist. This will make you look wider than you are.
Show up 2 minutes before the meeting & not have any of your tech working, then proceed to fumble around like an idiot.
BACKGROUND & LIGHTING
Do…
Choose a neutral coloured background.

You want your coworkers to focus on you and not your background. To avoid the background looking like a prison or hospital, add a shelf or plant to liven it up.

Choose to use a virtual background

Skype and many other video platforms allow you to apply a virtual background. You can choose to blur out what's behind you or even chose a fun background, like space or the jungle (assuming your workplace is okay with it).

Choose an area of your house where you can see your face clearly.

Sitting back a few feet from a natural light source or side-lighting work best in video calls. If you happen to have a ring light, that's the most ideal!
Don't…
Choose to sit in front of your garden. I know it's beautiful and you put so much work into it, but it's also so distracting to your coworkers. Plus, do you really want bugs interrupting you?
Sit in your bed lazily during the meeting. Seeing your bed and pillows behind you may give off the wrong impression.
Sit under a direct overhead light, in front of a light that is behind you, or directly in front of a window. Overhead and backlight cause awkward shadows. Sitting right in front of a window will be blinding on camera.
WHAT TO WEAR
Do…
Wear a pop of colour or a light, simple pattern.

Depending on how many people are in the video conference, you want to stand out. Neutral colours like black or white not only fade you into the background, but they can also mess with the auto-brightness of your camera. Check this article out to see the psychology of colour & how they are perceived if you're having difficulty choosing one.

Add simple jewellery/accessories that don't make sounds when you move.

We suggest some stud earrings and a simple necklace. Like this brass necklace by Canadian-made jewellery designer Darlings of Denmark, which we happen to have in-store!

Wear a nice sweater, blouse, or cardigan.

Putting on a nicer top helps get you in the work mindset. We suggest having one on hand that you can throw over the tank or tee your wearing throughout the day.

Wear whatever the heck you want below the waist.

They aren't going to see it, technically, so wear whatever pants you wish. Or even no pants!
Don't…
Wear the gold glittery top you bought for New Years a few years back.
Put on dramatic dangly earrings or bangle bracelets. The '80s were a long time ago and you can find something simpler and quieter.
Wear a tight black dress. When was the last time you sat around at home in something that tight? Never? Exactly!
Wear a tank top, t-shirt, or pyjamas. This isn't a virtual slumber party.
Stand up at any point if you aren't wearing appropriate clothing below the waist – just stay seated!
SKIN & MAKEUP
Do…
Have blotting papers handy to soak up any excess oil.
Apply an under-eye concealer that's a shade or two lighter than your skin.

This will help brighten your entire face.

Put on mascara and blush.

This will help you look more awake and healthy since most cameras tend to wash us out and darken our eye area. It's time to perfect the 5-minute makeup routine.

Have your hair styled nicely with any fly-aways all tucked away.

Use hairspray to manage and tame all those pesky hairs that just want to be free.
Don't…
Join the meeting after an intense workout where you sweat your face off. Even if you have setting spray and your makeup is in place, a shiny face is not a good look on camera.
Apply an intense smokey eye or red lip. You aren't going clubbing. You just want to look fresh and awake.
Have the eyebrows of Eugene Levy. A quick pluck of the obvious strays is a good option here.
Have your hair in a way that looks like you've just slept for 100 years.
Now that you know how to present yourself while on camera, book an appointment with us to get a few fresh tops to show off to your coworkers. Appointments can be done virtually or in-store.