Gentlemen, we know you're wondering how to be a stud during your virtual meetings. Here are the video conferencing do's and don'ts for men.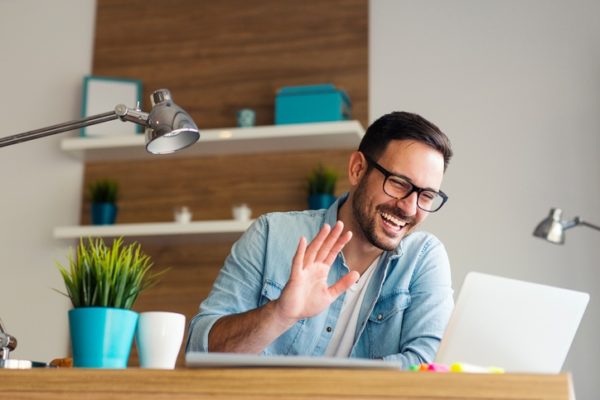 Working from home may make it feel like you can show up to your video conferences wearing your pyjama pants and a t-shirt, but espy is here to tell you to ignore that feeling. Although you don't need to wear a 3-piece suit, you do need to be mindful of how you are presenting yourself on camera. It is still work, after all, and you should look like you are working and not binge-watching Netflix on the couch.
This is where espy comes in. In this blog, we will go over how to appear professional but still stand-out amongst the crowd of co-workers' cameras. Of course, the below information is all dependent on your place of work. If your boss is okay with you showing up in your pj's, then go for it! However, most workplaces would prefer you put in some effort. So, grab a notebook! These are the espy do's & don'ts of video conferencing for men.
SETTING UP
Do…
Pick a room that doesn't have distractions.

We all remember that guy who's kid came in during his interview on national television. As funny as that was, we encourage you to try not to be that guy. A good choice is a home office or dining room.

Make sure your camera is straight on and at eye level.

This is the most flattering position. Place your laptop on a stack of books if you need more height.

Test your camera and mic before the meeting starts.

The consequences of not doing this can lead to frustration and looking incompetent to your fellow coworkers.
Don't…
Pick your bathroom for the meeting. Not only is this weird, but the acoustics are atrocious.
Zoom in so close that all your coworkers can see your bloodshot eyes from being up all night with your kid (who just won't sleep the same since school has been out).
Sit on your bed lazily. You should look attentive, not bored.
Have the camera cut you off below the waist. It looks odd, trust us.
Show up 2 minutes before the meeting & not have any of your tech working, then proceed to fumble around like an idiot.
BACKGROUND & LIGHTING
Do…
Choose a neutral coloured background.

You want your coworkers to focus on you and not your background. To avoid the background looking like a prison or hospital, add a shelf or plant to liven it up.

Choose an area of your house where you can see your face clearly.

Sitting back a few feet from a natural light source or side-lighting work best in video calls.

Turn off any other screens around you.

Even if you have a second monitor with work on it, the glare from another screen can make it look like you aren't focused.
Don't…
Choose a background with red and black stripes painted on the wall. It doesn't matter how hard you worked on it, it will look ridiculous on camera.
Sit under a direct overhead light, in front of a light that is behind you, or directly in front of a window. Overhead and backlight cause awkward shadows. Sitting right in front of a window will be blinding on camera.
Be watching TV while on the call. Tiger King is a crazy story that you want to know more of, but you can wait until after the meeting to find out if Carole Baskin killed her husband, alright?
WHAT TO WEAR
Do…
Wear a pop of colour or a light, simple pattern.

Depending on how many people are in the video conference, you want to stand out. Neutral colours like black or white not only fade you into the background, but they can also mess with the auto-brightness of your camera. Check this article out to see the psychology of colour & how they are perceived if you're having difficulty choosing one.

Wear stretch fabrics & button-ups.

Especially if you used to wear a suit to work every day. These pieces look professional but are still comfortable, plus the collar makes you look more pro.

Wear an unstructured blazer.

For example, Circolo has super soft, stretchy blazers that look casual and professional at the same time; we have them in stock!

Wear whatever the heck you want below the waist.

No one should see you below the waist if you've set your camera up correctly. So, go ahead! Wear your SAXX underwear if that's where your heart leads you.
Don't…
Wear that yellow and green Hawaiian shirt you bought 4 years ago on vacation.
Wear a full suit. It looks weird to your coworkers if you appear to be hanging out at home in a suit, because who even does that?!
Wear a t-shirt or muscle shirt. This isn't a virtual keg party.
Stand up at any point if you aren't wearing appropriate clothing below the waist – just stay seated and centred!
SKIN & HAIR
Do…
Have blotting papers handy to soak up any excess oil.

Even men don't look so great when they're all shiny. Blotting papers help you by soaking up the excess oil on your face. All you do is press them onto your skin, and voila! No more shine. You can grab them at most health and beauty stores, like Shoppers Drug Mart.

Apply an under-eye concealer that's a shade or two lighter than your skin.

Yes, even for men. This will help brighten your whole face and make you look more awake and alert.

Have your beard groomed and at a reasonable length.

This all depends on what your place of work allows normally. If you're usually clean-shaven, we suggest keeping it to no more than a 5 o'clock shadow. If you usually have a full beard, wash it and apply some beard oil to keep it looking good. Kent of Inglewood can help you out with all your beard & moustache needs.

Have your hair styled nicely.

Style it the way you would if you were actually going into work. You know, when life was normal. Need a cut? We suggest Notorious Hair Group just down 9th Ave from espy.
Don't…
Join the meeting after an intense workout where you sweat your face off. It's not manly, it's gross.
Binge drink all night and show up tired and hungover. The camera will make those under-eye circles look much darker, and concealer can only do so much.
Have the beard of a lumberjack who only comes into town twice a year.
Have your hair in a way that looks like you've just slept for 100 years.
Now that you know how to present yourself while on camera, book an appointment with us to get a few fresh tops to show off to your coworkers. Appointments can be done virtually or in-store.
For more style tips on video calls, check out this GQ article.