Iris Setlakwe: First and Only in the World – Permanent Shop-in-Shop Comes to espy!
One of espy's most successful Canadian collections: Iris Setlakwe is officially getting it's very own permanent shop-in-shop in the espy expansion. We are excited to reveal the beautifully built space in addition to the impeccably tailored garments and customized white hangers that fill it.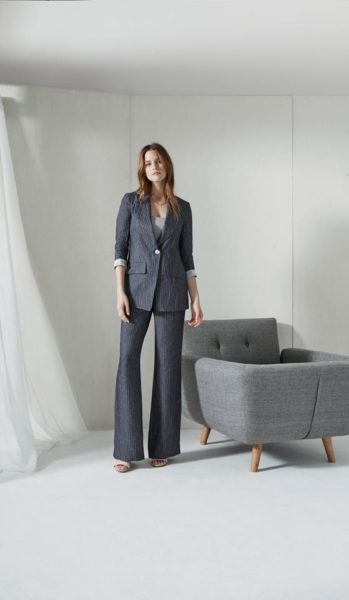 Traveling through espy you've definitely tried on one of Iris' spectacular pieces. Her designs are a timeless favourite by clients and the espy team. Majority of the line is wrinkle-free, machine washable, and perfect for travel. Iris also purposely designs all her garments to pair together into many looks with ease. This brings simplicity to the modern working woman's lifestyle.
The fit model for Iris' collections is a size 6, and a mother of 3 – meaning garments cater to the real curves of a woman's body. Every piece is lined, paneled and specifically designed so they fit in all the right places and flatter the body. Use of superior-quality textiles is incomparable and you can feel it once you get into any piece she designs.
Who is Iris Setlakwe?
Iris Setlakwe is a Canadian designer based and produced out of Montreal. She visits every factory her designs are produced in alongside having an undying passionate attitude towards support for the local workforce. This ensures fair labour practices as well as knowing the products will be up to standard. Iris hand-selects the finest fabrics from Europe to import for her lines. Everything well executed – nothing left to chance.
Her line began in 2001 with a vision to create a women's fashion line that fits in all the right places. Each design carefully thought out – from the detailing of back panels to the lining. Anything less than perfection is unacceptable.
 espy loves to support made in Canada. With its storied success at espy, it was clear that a permanent shop-in-shop was the next step forward in our relationship with Iris. We are truly excited to have this exclusive opportunity to share with our clientele. Iris will make a personal appearance at espy this upcoming fall. Stay tuned for updates!