On the 1st Day of Christmas espy Gave to Me…
You know how the jingle goes and this year we start to sing that jingle on December 8th. It's espy's 12 Days of Christmas!
December 8th and 9th: Jools & Joplin Pop-Up
[wp1s id='36257′]
Jools & Joplin is the love child of a soulful fashionista with a flair for jewelry and her wild-at-heart, never-say-die entrepreneurial counterpart. Jools & Joplin was created for the woman who pairs biker boots with a sundress, wears it to a full moon party, and gets her tarot cards read next to a beach bonfire, all while chasing those moments that make her the volume-up badass she is. With stars in her eyes and on her hands, she goes her own way, dances in the moonlight, and makes a plain white tee with a statement piece look good at home, work, and play – anytime, any day.
Jools & Joplin imagines, curates, designs and creates hand-crafted jewelry and accessories for dreamers, mothers, fighters, lovers, tomboys and also the girl next door – any woman who embraces the passion of self-expression through fashion.
December 10th: Blush Lingerie
[wp1s id='36378′]
Receive a FREE pair of Blush panties with a purchase over $100!
A dedicated entrepreneurial family, an expert design team and more than 60 years of experience in the world of style have culminated in the successful brand known as Blush.
They provide flirtatious and affordable luxury to women worldwide with the creation of sensual, voluptuous, and urbane intimates. Each piece in the collection highlights the exceptional quality, sensual design and unsurpassed attention to detail that has established the incomparable Blush reputation. Their style inspires discerning women to embrace their unique sense of self with complete assurance and a flair for playfulness.
Contemporary women are at the very heart of the Blush story where fashion, individuality, and refinement play key roles. Blush women are poised and on the go, with a keen sense of what to wear and how to wear it.
December 11th: FREE Blanket Scarf with Purchase of Full Price Outerwear
December 12th: 12% OFF All Women's Jewellery
December 13th: Extra 13% OFF Sale Merchandise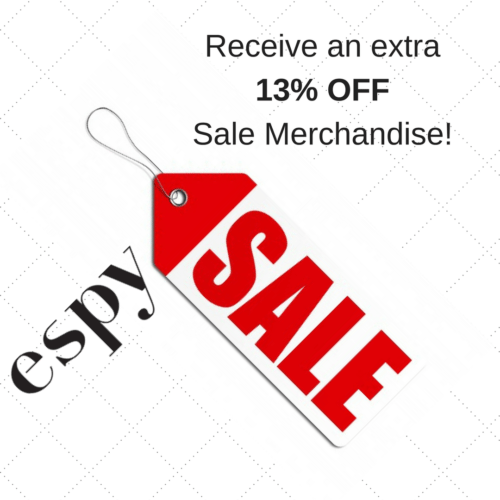 December 14th: Receive 14% on a Gift Card for You!
December 15th: Villains & Mindful Jewelry: Buy One, Get One 50% OFF
[wp1s id='36438′]
New to espy! Villains Jewelry for men, designed to stand alone or layer up. An assortment of stainless steel, leather and premium stone beading for a tough, modern mix. And Mindful Jewelry for women. Stone bracelets, gold, and rose gold charms and cuffs. Come see for yourself!
December 16th: ManDay Grooming Pop-Up
[wp1s id='36414′]
Calgary's Ultra Premium, all natural men's grooming line. There are two guys that handle everything that is ManDay! They produce, package, label, design, and market all on their own, and they are starting a movement! They are constantly researching new and innovative recipes, and methods of production so as to deliver the ultra-premium products you desire!
December 17th: Armadillo Pop-Up
[wp1s id='36448′]
Armadillo Leather Handbags are designed in Edmonton and handmade with the highest quality leather under ethical manufacturing standards in Colombia. Armadillo collaborates with local talented craftsman and designers to stimulate the economy and support families.
December 18th: Extra 18% OFF Lief Horsens Blazers and Accessories
December 19th: Buy One, Get One 50% OFF Stocking Stuffers
[wp1s id='36442′]
12 Days of amazing opportunity to get that special gift for your loved one, or even yourself! We'll see you this December for the 12 Days of Christmas at espy!