Megan Szanik – the owner, visionary, creator, and proprietor of espy, and, of course, the loudest person on 9th Avenue. You all might think you already know her. She has a vivacious energy that is hard to miss, her laugh is easily recognizable, and she definitely knows how to make an entrance. Far from shy, Megan knows what she wants when she wants it.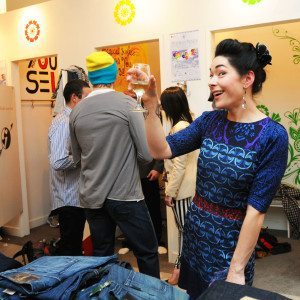 She has literally lived every fashionista's dream. From all over Canada, to New York, to Amsterdam, to L.A., to China – the list could go on – Megan has worked in all the fashion hot spots. Try not to be too jealous…
So how exactly did Megan have this fabulous fashion career all over the world and end up in the growing fashion center of Calgary with espy, the affordable designer boutique the city can't stop talking about?
Megan grew up in Prince George, B.C. She moved to Edmonton for school and studied business at the University of Alberta. While in school, Megan assisted with buying at a store and really honed her natural sales talent. Graduation brought her to Calgary where she doubled the sales of Aluminum Planet in a year as a sales associate. After so much success so early, Megan knew where her career was headed – Montreal!
Montreal proved to be a place Megan could thrive, flourish, learn, and eventually educate. She worked for distribution companies like Lithium and The Soul Suite, who managed heavy weight brands such as Triple 5 Soul, Cosmic Debris, Fubu Girl, and Thrasher. Megan continued to increase sales and profits for every brand she worked for. After working with Fidelity Denim (the beloved denim brand espy can't get enough of), Megan decided it was time to go out on her own.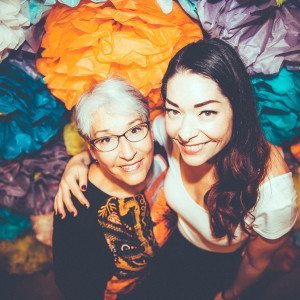 She created her own consulting company, Clothes Therapy, as well as a clothing company, Spoken Clothing. During this time, she traveled the world researching the industry in Europe, learning about clothing production in China, and looking for lines to distribute in North America.
But after awhile, the constant traveling and jet-setting around the world was starting to lose its appeal. Megan wanted to be closer to her family after so many years away. Her family had relocated to Calgary and that is where Megan had her eyes set. Of course her first flickering thoughts were oil and gas – but Megan knew that wouldn't satisfy her. Even the idea of the corporate lifestyle seemed stifling. Instead, Megan began working for GM Collin, the professional skincare line we now carry at espy. In her downtime, Megan collaborated on a book called The Faces of Fashion in Canada to help a former colleague with the launch of a new distribution company in Montreal.
And then it happened. She realized what she wanted to do. After years of working in distribution, sales and styling, Megan knew the ins and outs of the industry like the back of her hand. She had a vision for a store. A store that would sell affordable designs from across the continent and the world. A store that sold things completely different than anywhere else in the city and introduced new brands and new merchandise on a weekly basis. But most of all, she had a vision for a store that was much, much more than a retail space. All of her staff would be professional fashion stylists who understood different body types, were sensitive to trends, understood how to properly work with people, and most of all, how to fit clients in clothing that would change their outlook and boost their confidence, no matter what size.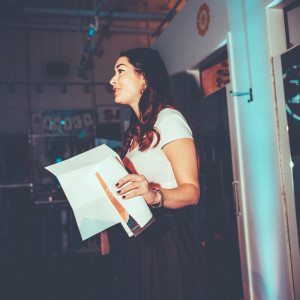 And so espy was born! After only 2 years of being open, Megan was able to expand into a space three times the size of her first store, in the summer of 2011. Megan fell in love with the Inglewood area and as such has become heavily involved in the community. With the success of her vision, the store, and the successful marketing campaigns of espy, she has been able to give back with cheeky charity events that suit her personality and the espy brand.
Megan's personal style has gone through as many phases as you can imagine. When she was younger, she had a rebellious attitude and insisted on hair in all different colors, piercings everywhere, and eye shadow that always matched her shirt. But as she's matured, so has her style. The thing about Megan is that she can pull off just about any look. Whether she is going Euro, pin-up, hipster, or trendy – Megan's style is never the same from day-to-day. She is usually in a phase with a certain accessory or a fabulous pair of shoes. But somehow, she manages to make it work with whatever style she is currently channeling.
As a stylist, her chameleon-like approach to her own appearance makes it easy for her to identify where a client is comfortable in his or her own style. Megan's goal is always to use her expertise in fashion and knowledge of fit, fabric, design, and brands to impart why it is exactly that a certain piece either works for you or doesn't.
A visit to espy will always be interesting and memorable – and you have Megan Szanik to thank for that! Just try to keep up her ever evolving vision. We dare you! You can be sure to look forward to even bigger ideas and bigger events and more fashion in the years to come. Stay tuned!