See the article online here.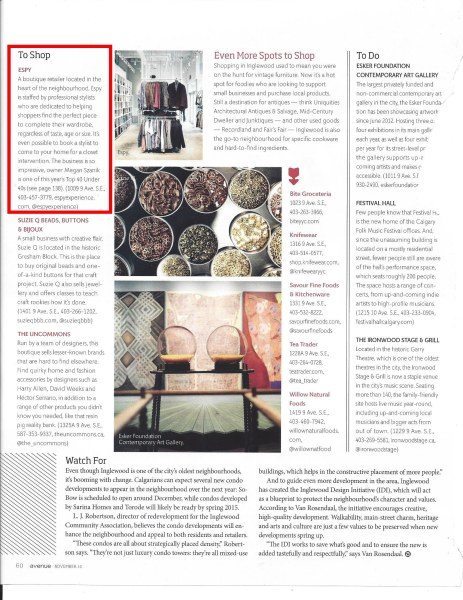 Gravity Espresso and Wine Bar
PHOTOGRAPHY BY JARED SYCH
Ask Meg Van Rosendaal, director of the Inglewood Design Initiative, to describe Inglewood and she's likely to mention its heritage, its main-street charm and its sense of community.
"Inglewood is changing and its population is expanding," she says, "but protecting these values is essential for the neighbourhood to retain its character." 
And it certainly has lots of character.
Built around Calgary's original main street, Atlantic (now 9th) Avenue, Inglewood is one of the city's oldest neighbourhoods. Over the past 140 years, it has evolved from a frontier to a business and industrial hub to an area with a vibrant shopping,restaurant and arts and culture scene, while maintaining its residential mix. Despite this shift, many of the essential elements remain: Inglewood seamlessly mixes the new with the historic, making it the quintessential urban village.
Where to Eat
PHOTOGRAPHY BY JARED SYCH
This is a new-era diner. Brewing Phil & Sebastian coffee, curing its own bacon and selling pastries from Pascal's Pastries, the restaurant is focused on supporting local businesses and serving fresh dishes.
(1420 9 Ave. S.E., 403-234-8885, finedinercalgary.com, @finedineryyc)
Serving coffee when you need it and wine when you want it, Gravity is a high-end café for unwinding. The family-owned business sells a range of breakfast and lunch items, as well as cheese boards and olive bowls for sharing with friends over a glass of pinot noir. Gravity is community-oriented, acting as a platform for local musicians on Friday and Saturday nights with part of the pay-what-you-can cover charge going to various local charities.
(909 10 St. S.E., 403-457-0697, cafegravity.com, @cafegravity)
Rouge boasts award-winning food prepared by first-class chefs, right on the banks of the Bow. The restaurant operates out of a historic heritage home built in 1891 that formerly belonged to A.E. Cross, one of "The Big Four," the wealthy cattlemen who were the founders of the Stampede. Serving exquisite meals prepared with great attention to texture, temperature and colour, Rouge is worth every penny. 
(1240 8 Ave. S.E., 403-531-2767, rougecalgary.com, @rougecal)
Even More Great Eats
The Carmichael
(1219 9 Ave. S.E., 403-266-1005, jacquelinesuzannes.ca)
The Hose & Hound
(1030 9 Ave. S.E., 403-234-0508, thehose.ca, @hosenhoundpub) 
Sugo
(1214 9 Ave. S.E., 403-263-1115, sugo.ca, @sugocaffe)
Without Papers
(1216 9 Ave. S.E., 403-457-1154, wopizza.ca, @wopizza)
Where to Shop
PHOTOGRAPHY BY JARED SYCH
A boutique retailer located in the heart of the neighbourhood, Espy is staffed by professional stylists who are dedicated to helping shoppers find the perfect piece to complete their wardrobe, regardless of taste, age or size. It's even possible to book a stylist to come to your home for a closet intervention. The business is so impressive, owner Megan Szanik is one of our 2014 Top 40 Under 40s.
(1009 9 Ave. S.E., 403-457-3779, espyexperience.com, @espyexperience)
Stepping into this shop is like getting a peek at a Hollywood glamazon's closet, circa 1940. Try out a luxurious fur coat or a dainty lace hat at this boutique that carries vintage and consignment clothing, as well as furniture and decor.
(1317 9 Ave. S.E., 403-237-5344, prettylittlethings.ca)
This retailer of eco-friendly products has renovated its current location with a variety of recycled and salvaged materials and carries non-toxic and organic bed and bath products, clothing, building materials and everything in-between.
(1237 9 Ave. S.E., 403-452-1001, rivasecostore.com) 
Stop into this old-school spice shop for a spicy-sweet whiff of the more than 200 different pure spices and handmade spice blends lining the shelves.
(1403A 9 Ave. S.E., 403-261-1955, silkroadspices.ca) 
Suzie Q Beads, Buttons & Bijoux
PHOTOGRAPHY BY JARED SYCH
A small business with creative flair, Suzie Q is located in the historic Gresham Block. This is the place to buy original beads and one-of-a-kind buttons for that craft project. Suzie Q also sells jewellery and offers classes to teach craft rookies how it's done.
(1401 9 Ave. S.E., 403-266-1202, suzieqbbb.com, @suzieqbbb)
Run by a team of designers, this boutique sells lesser-known brands that are hard to find elsewhere. Find quirky home and fashion accessories by designers such as Harry Allen, David Weeks and Héctor Serrano, in addition to a range of other products you didn't know you needed, like that resin pig reality bank. 
(1325A 9 Ave. S.E., 587-353-9337, theuncommons.ca, @the_uncommons)
Even More Spots to Shop
Shopping in Inglewood used to mean you were on the hunt for vintage furniture. Now it's a hot spot for foodies who are looking to support small businesses and purchase local products. Still a destination for antiques — think Uniquities Architectural Antiques & Salvage, Mid-Century Dweller and Junktiques — and other used goods — Recordland and Fair's Fair — Inglewood is also the go-to neighbourhood for specific cookware and hard-to-find ingredients.
Bite Groceteria
(1023 9 Ave. S.E., 403-263-3966, biteyyc.com)
Knifewear
(1316 9 Ave. S.E., 403-514-0577, shop.knifewear.com, @knifewearyyc)
Savour Fine Foods & Kitchenware
(1331 9 Ave. S.E., 403-532-8222, savourfinefoods.com, @savourfinefoods)
Tea Trader
(1228A 9 Ave. S.E., 403-264-0728, teatrader.com, @tea_trader)
Willow Natural Foods
(1419 9 Ave. S.E., 403-460-7942, willownaturalfoods.com, @willownatfood)
Things to Do
PHOTOGRAPHY BY JARED SYCH
Esker Foundation Contemporary Art Gallery
The largest privately funded and non-commercial contemporary art gallery in the city, the Esker Foundation has been showcasing artwork since June 2012. Hosting three or four exhibitions in its main gallery each year, as well as four exhibitions per year for its street-level project, the gallery supports up-and-coming artists and makes great art accessible.
(1011 9 Ave. S.E., 403-930-2490, eskerfoundation.com)
Few people know that Festival Hall is the new home of the Calgary Folk Music Festival offices. And, since the unassuming building is located on a mostly residential street, fewer people still are aware of the hall's performance space, which seats roughly 200 people. The space hosts a range of concerts, from up-and-coming indie artists to high-profile musicians.
(1215 10 Ave. S.E., 403-233-0904, festivalhallcalgary.com)
A vibrant wall mural and giant iron sculpture on the exterior of this gallery coax your curiosity inside. DaDe's visual art, fashion and interior-design pieces consistently blur the lines between fine art and modern lifestyle.
(1327 9 Ave. S.E., 403-454-0243, dadegallery.com)
Located in the historic Garry Theatre, which is one of the oldest theatres in the city, the Ironwood Stage & Grill is now a staple venue in the city's music scene. Seating more than 140, the family-friendly site hosts live music year-round, including up-and-coming local musicians and bigger acts from out of town.
(1229 9 Ave. S.E., 403-269-5581, ironwoodstage.ca, @ironwoodstage)
Watch For
Even though Inglewood is one of the city's oldest neighbourhoods, it's booming with change. Calgarians can expect several new condo developments to appear in the neighbourhood over the next year: SoBow is scheduled to open around December, while condos developed by Sarina Homes and Torode will likely be ready by spring 2015.
L. J. Robertson, director of redevelopment for the Inglewood Community Association, believes the condo developments will enhance the neighbourhood and appeal to both residents and retailers. 
"These condos are all about strategically placed density," Robertson says. "They're not just luxury condo towers: they're all mixed-use buildings, which helps in the constructive placement of more people."
And to guide even more development in the area, Inglewood has created the Inglewood Design Initiative (IDI), which will act as a blueprint to protect the neighbourhood's character and values. According to Van Rosendaal, the initiative encourages creative, high-quality development. Walkability, main-street charm, heritage and arts and culture are just a few values to be preserved when new developments spring up. 
"The IDI works to save what's good and to ensure the new is added tastefully and respectfully," says Van Rosendaal.