Gifts That Don't Suck
Alright, less than a couple weeks away from, well you know. If you haven't figured out what to get that special someone this year, we can help.
1. Date Night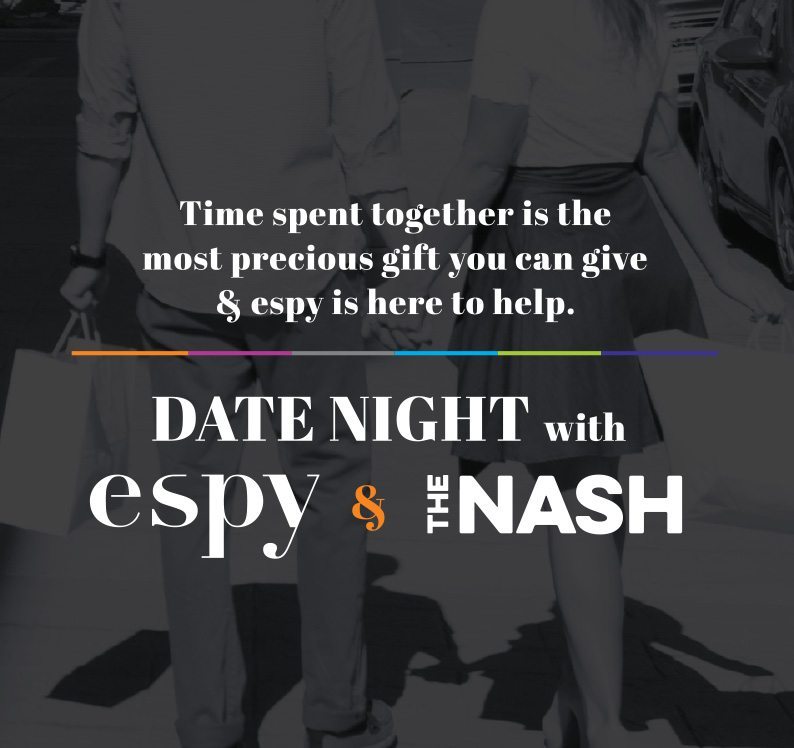 Time spent together is the most precious gift you can receive. A Date Night package will show that special someone they are worth more to you than just a gift certificate. You'll get one on one attention from an espy stylist and refreshments while trying on affordable designer clothing and learning how to accentuate your assets with fashion in a fun, relaxed atmosphere. Afterward, you and your special someone can wear your new style to The Nash, where a table will be waiting. Have a date night with your spouse, your special someone or even your best friend.
2. Artphere New Dulles Bag
Brand new and exclusive to espy! Artphere is a major bag brand of Toyooka, a major bag-producing city in Japan. In 2006 a brand of bags was created especially for traveling artists coming to sketch Toyooka, known for its rich outdoor environment and natural landscapes. The structure used for the bags opening framework, suitable for storing a sketchbook, is what led to the birth of the New Dulles Bag. Artphere bags have been perfectly cut, carefully sewn and can be cherished for a long time.
3. Sentaler Alpaca Classic Scarf
So you already know about Sentaler and the brand's famous wrap coats. Why not give the gift of accessory? Obtained using only the highest baby alpaca quality fibers, these scarves are hypoallergenic and gentle on the skin, breathable, incredibly soft and very warm.  The perfect addition to your wardrobe to your winter ensemble.
4. Mindful Jewelry
Handmade, contemporary, simple and subtle jewelry pieces from Mindful Jewelry. Shining a light on the importance of mental health and bringing women together. Mindful is about empowering each other to speak the truth. We have everything from gold-plated to stone healing bracelets. The perfect addition to a stocking or as a gift of its own.
5. Villains Jewelry
Ah, and you thought we didn't carry manewlry? Man jewelry? Whatever you want to call it… But we do and it's quickly becoming one of the hottest items in-store this Christmas season. Think of Villains as the brother of Mindful jewelry. Fashionable yet timeless. These bracelets are meant to be stacked upon one another and swapped in and out. Come check them out for yourself. 
6. The Gift of espy
Alright, we may have taken the easy way out but we get it! Sometimes it's hard and you can't quite figure it out. An espy gift certificate is a sure thing when it comes to the 'perfect' gift this Christmas. They never expire and if it gets lost somewhere along the way, we have a record of it on file. Give them the gift of espy this Christmas with an espy gift card.
And as always the espy stylists are here to help you find that perfect gift this Christmas. See you in-store soon!