Continuing to celebrate Canadian designers…
This year we celebrate the 150th anniversary of Confederation. In recent years, our country has seen the emergence of a grassroots movement towards buying more locally-made products. High outsourcing costs, the state of the economy, and strength of the dollar have all had an impact on the fashion industry in Canada. espy is proud to showcase Canadian designers and in honor of #Canada150 we would like to feature the Canadian brands we carry, their stories and why we buy Canadian.
The creations of Luc Fontaine are comfortable and graciously feminine. His confections are made from extensible materials, which advantages all shapes and sizes. Luc Fontaine's designs cater to both mothers and daughters in terms of style and aesthetic. His Spring/Summer, Fall/Winter and Cruise collections are characterized with simple, pure and minimalist designs enhanced with prints or textured fabrics. Having 20 year's experience within the fashion industry, Luc Fontaine has harnessed all the attributes necessary to launch his own fashion collection. Today, Luc Fontaine Design is renowned across Canada and the United States.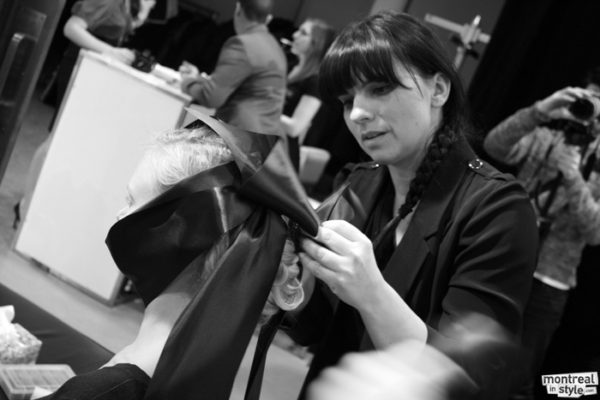 After a few capsule collections sold to underground boutiques in NYC and Montreal, Judith Desjardins premiered Bodybag by Jude in 1998. She initially targeted ravers and clubbers, but now the label has evolved to a directional contemporary brand offering effortless pieces to young professionals. Bodybag is a fine balance of chic and edgy staples, perfectly curated for an everyday stylish life. Using premium fabrics, quality craftsmanship and innovative details are the key of the structured yet feminine style that Bodybag is renowned for. Entirely made in Montreal, the philosophy behind Bodybag is to live the life you want and enjoy the present moment, you never know…
Founded in 2013, Marigold by Marilyne Baril is for the dynamic and urban career woman. The Marigold line consists of wool, leather and fur coats as well as casual dresses. Focus is on comfort, design, ethical practices and durability. Marilyne commits to having everything made in Montreal. Cumulating 7 years of experience in the fashion industry, Marilyne worked for big and small Canadian fashion businesses before launching her brand in 2013. She gained international experience with an internship in Paris for Nathalie Dumeix as well in Toronto, at the Nafa Studio. Her determination, creativity and attention to detail allowed her to win several scholarships, grants and awards, including the ARIANE award for the 2016 emerging designer.
At espy, we believe in Canadian fashion. We believe in Canadian design. We believe in Canadian manufacturing. We believe in amazing service. We believe in affordable style. We believe in talented designers who wave the maple leaf proudly. These are just a few of the brands making waves in Canadian fashion. We trust you'll come in and learn about the many others. Stay tuned all summer for highlights of our favourite Canadian designers.
Click here to read part 1.