With thanksgiving around the corner we wanted to take a moment to recognize some of the things we have to be grateful for.  Of course we are grateful for $23 fleece lined leggings, cozy winter tunics and layers upon layers (all available at espy) – but  most of all we are grateful for YOU – our amazing customers. Read on for thanksgiving style tips and some heartfelt expressions of gratitude!
We are thankful for the chance to share great style with YYC!

As you likely know, ensuring the people of Calgary are properly styled is something that the espy stylists are VERY passionate about. Whether it's finding the perfect fitting jean or giving your closet an overhaul – we've got your back.  An espy stylist will even be your personal shopper!
Style Tip: With great style in mind, and turkey dinners a plenty, we thought it important to remind you of a couple things – Leggings are NOT pants and sweatpants are NOT for wearing in public! If we've ruined your wardrobe plans don't fret – espy has the infamous sweat pant jean available in store. Experience the same level of comfort while looking put together – no one will be the wiser!
We are thankful for FABULOUS espy shoppers!
It's no secret that we have the best customers in the world – and we couldn't be more grateful! Whether we are asking you to strip down for a good cause or finding the perfect solution to your fashion emergencies – we LOVE your passion! espy wouldn't be what it is today without the support of each and every one of you. THANK YOU!
Style Tip:
Fall in Calgary means 2-degree mornings and 18-degree afternoons. How do you cope? With layers of course! Come in to espy and the espy stylists will show you how to layer without looking bulky!
We are thankful for being part of an engaged community!
Special Olympics Calgary and the Calgary Prostate Cancer Centre are two organizations close to our hearts. We are so grateful to be able to support these worthy causes each year with #bikiniespy and #nakedespy. espy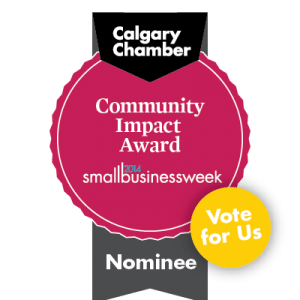 is also excited and humbled to be nominated for a Calgary Chamber Small Business Week Award, in the Community Impact category! Watch Megan talking about the store and take a moment to VOTE for espy!
Style Tip: Don't get caught up on size! The number one thing we look for when you try on clothes is fit. Every brand and fabric fits differently and your espy stylist will not lead you astray!
The weather is turning, our to-do lists are never ending, and it's easy to get wrapped up in the culture of "busy." Don't forget to take stock of all the positive in your life and share your love and good vibes with those around you. However small or large, we all have something to be grateful for!
Happy Thanksgiving from our espy family to yours!